If you know me at all, you probably know that there is no place I'm happier than by the water. One of the biggest things I love about living in Whitehall is that I can go to the water whenever I want because we're right on Lake Michigan.
Rick has been working 7 days a week lately, so we've been trying to do stuff with the kids in the evenings after dinner when he gets home. Last week we went and played mini golf, this week, I wanted to go to the White Lake Pier. It was a little on the chilly side, but jeans and sweatshirts were perfect and we had a really great time.
Here is Logan being cute on the way: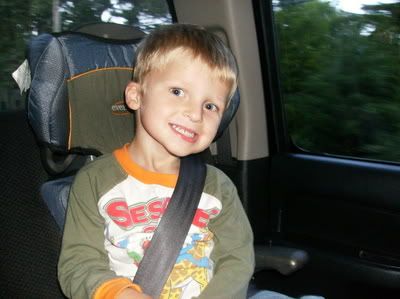 And Joshua's cute face:
The boys on the rocks: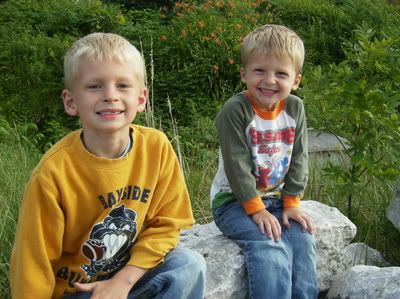 At the end of the pier with Lake Michigan behind them (the sun was kind of in Joshua's eyes, lol):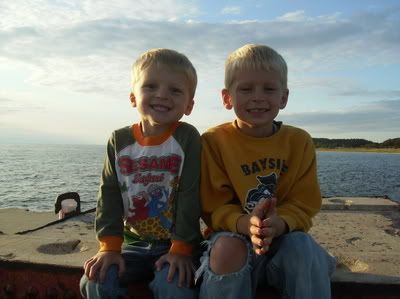 And the channel leading into White Lake in the background:
At the end of the pier, there were some fisherman bringing in some King Salmon. We got to see them reel one in that had to have been 24 inches long! Josh and Logan were very impressed - as was I, since it took the guy 28 minutes to reel him in!!!
On the way back, we saw a caterpillar sitting on a plant. Joshua swears it was a monarch caterpillar! We tried to get a picture, but it didn't turn out too well:
When we were done at the pier, we decided to head out to Duck Lake and climb on the big sand dune over there. I figured it would wear the kids out so they would sleep extra well :)
Here they are at the top of the dune, with Lake Michigan in the background: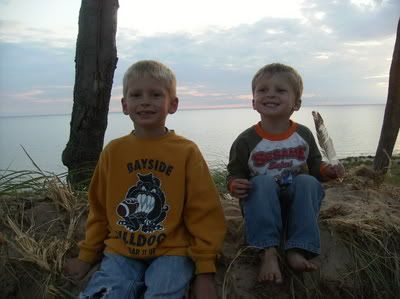 Joshua and I got our picture taken - he was being "cute" again, lol: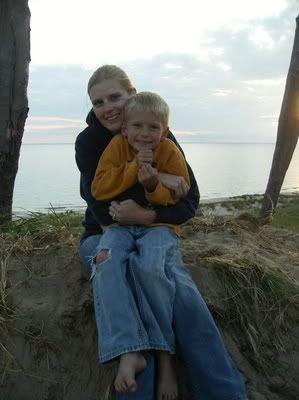 And then Joshua and Rick:
And then Logan had to get in on that one, lol: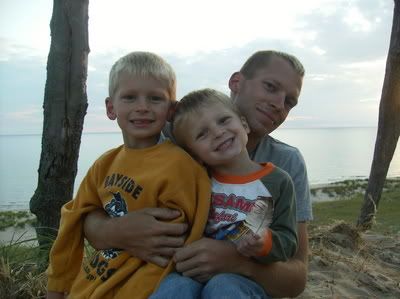 We had such a great time! There was minimal whining when it was time to leave, which was nice. I get really frustrated when there are major meltdowns whenever it's time to leave someplace fun. Joshua has been working on that lately. I keep reminding him that if he whines and cries, I'm going to stop taking them fun places, lol.
I'm taking the boys camping with some friends this week. That should be fun. We've never gone without Rick before, so I'm hoping we have a good time and nothing majorly catastrophic happens over those two days, lol! We're going to Hoffmaster State Park, which is great because they have a nature center and hiking there. I'm really looking forward to it :)