Ok, here goes! I'm a lot less tired tonight and have been uploading photos to Facebook, MySpace and MMC, LOL :)
We left early on Saturday morning - actually got out the door on time! It was SUPER warm in Michigan that day and we had awesome weather the whole trip down south. The stupid GPS had us go all the way to Atlanta, GA instead of straight to Birmingham, AL where we were SUPPOSED to spend Saturday night. That was 2 hours out of our way! We ended up getting a GREAT deal on a hotel room in Cartersville, GA, which is a little north of Atlanta. It had an indoor pool, so the boys were able to swim.

Sunday morning we headed out after breakfast. We took a detour over to Ft. Benning, which is in Columbus, GA. Rick did Basic Training there and he wanted to show us all the things he's told us about. It was actually really cool, even though Rick was really disappointed at how laid back it was now. We actually saw soldiers on their cell phones on base which was unheard of when Rick was in there.
Joshua was complaing that his ear hurt all day long on Sunday. We gave him some Tylenol and he seemed to perk up, but by Tuesday he had a full blown ear infection and we had to have our doctor send a script down to Florida for him - thank God she had seen Logan just the week before for the same thing, so it was no big deal.
We got to my sister's house about 8:00pm Sunday night. Spent the night catching up and getting ready to enjoy Florida!!
Monday morning we took a bike ride to the park in Largo. There were a TON of turtles in a pond there and the boys were super impressed, lol. Bethany and I did some super shopping too - she works at Bealls Outlet, so I got some really good deals!
Tuesday was spent in St. Petersburg. We walked around the downtown, grabbed pizza for lunch, filled Joshua's script and then headed down to the pier. There's an aquarium at the end of the pier, so we went there. It was small, but REALLY cute. Joshua was able to feed the pelicans - we got video - it was HILARIOUS!!!!!
On Wednesday, Rick and I had my nephew Solomon for the day while his parents were at work. We took the boys to Indian Rocks Beach, which is JUST down the road from my sister's house. It's on the Gulf of Mexico and is SOOO pretty! Rick and I decided to celebrate Valentines Day early, so we got a hotel room at a hotel RIGHT on the Gulf. We were able to bring the boys up there for lunch and then let Solomon nap while Joshua and Logan played in the sand with Rick. Oh, Rick got SO sunburned, lol. It was kind of funny - this happens to him EVERY summer, lol.
Wednesday night we dropped our kids off with Bethany and Big Josh and we took a roadtrip up north of Clearwater, FL to Honeymoon Island. We parked on the causeway and went "treasure hunting" along the shore. When we got back to Indian Rocks Beach, we ate at Crabby Bills, across the street from our hotel. Oh WOW - the food was AMAZING!!! Then we found an ice cream stand for dessert and then went back to the hotel. We left the window and the balcony door open so we slept to the sound of the ocean - it was so cool!!
After we checked out on Thursday, Rick and I went beachcombing again at low tide. We found a HUGE jellyfish on the sandbar. It was bigger then this one that we found later that day at Fort Desoto.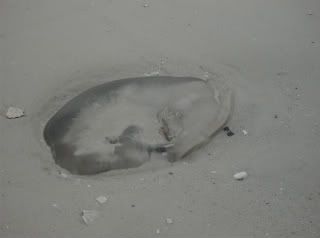 Fort Desoto was a little chilly and foggy, but still really cool. We spent the day at the beach, looking for sand dollars and collecting shells. Rick was able to swim in the ocean for the very first time - it was cold, but he did it!! Joshua even lost his second tooth during lunch at the beach - Aunt Bethany was REALLY excited to be there for that. The kids played in the sand, and then we went to check out the fort. We also walked the pier which was pretty neat. We saw some HUGE crabs in the water next. The pictures didn't turn out though. Here is a good shot of the boys on the pier:

We also got a good family photo at Desoto!!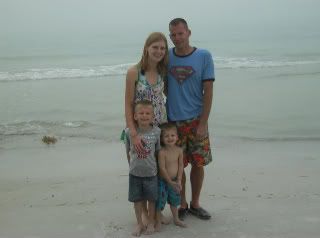 We were supposed to leave and head home on Friday, but Rick REALLY wanted to take the boys to Lowry Park Zoo in Tampa, so we stayed an extra day. It was worth it! The day was perfect - sun and warm (like 85 degrees!!) - it was awesome. Here are a few pictures!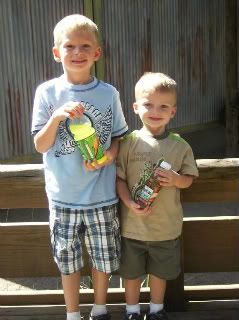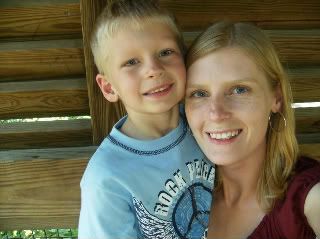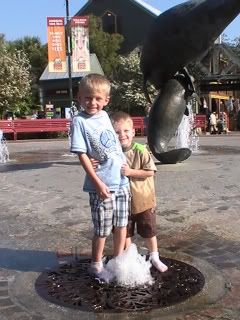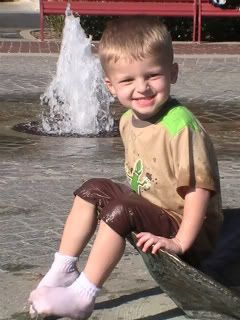 We got out the door on time on Saturday to head home. We made it out of Largo, over the I-275 bridge that crosses the Tampa Bay and we had JUST gotten into Tampa when Rick said "Uh oh, something is wrong with the truck." We pulled over and sure enough, this is what we saw: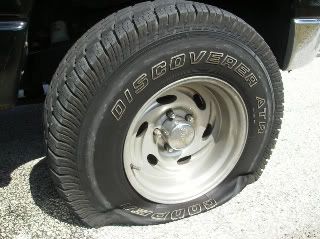 A Tampa "Road Ranger" came up behind us and let us use his floor jack. We got the truck jacked up, and the tire off. My brother-in-law came to rescue us and pick up Rick (after about an hour or so) and they found a tire shop to get a new valve stem. We got the tire back on and were on our way. It ended up being a 3 hour delay, though. We had to drive ALL NIGHT LONG to get home at a decent time on Sunday. We won't do that again... It was so much better to break the drive up and get a hotel room for a night on the way down.
Logan and my nephew, Solomon, are SO close in age that they fought a ton! Over toys, over wrestling, over Solomon "scaring" Logan by pretending to be a monster - everything!!! That got old after a while!!
It was a really great trip! I think we're going to make it an annual thing. It was SO nice to spend time with my sister!!! But, I am glad to be home!!!!