I assure you, I did not forget about house pics - it just took a while to get to them! Here they are, though!!

I will start with some of the exterior shots. We spent all day Saturday pulling bushes out from the front of the house. We are both not "shrub people". The plan is to put a porch in off the front stairs that goes in front of the living room window, and then do landscaping on the other side of the stairs, under the bedroom windows.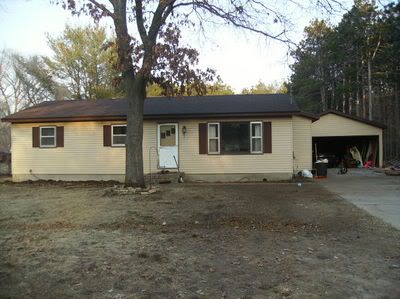 This was after pulling out the bushes. Here's what it looked like before:




After Rick pulled out the big tall one that was next to the stairs.

I think it looks SO MUCH better, minus the bushes. Don't you agree?

Now, onto the rest of the house.

Here is the kitchen, coming in from the mudroom:




And some more kitchen pics...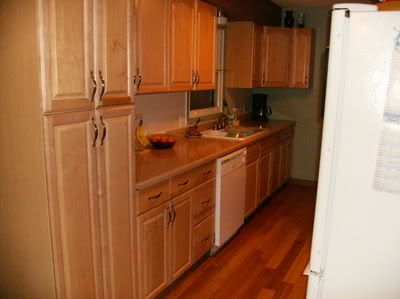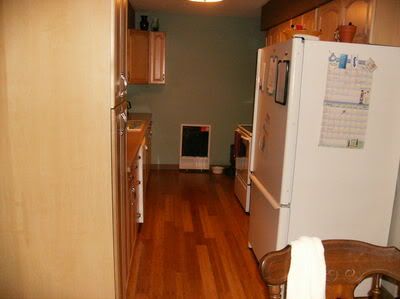 As you can see, it's not a huge kitchen, but it has TONS of cupboards and counter space and I'm the only one who cooks, so it works for me!!

Here is the dining room: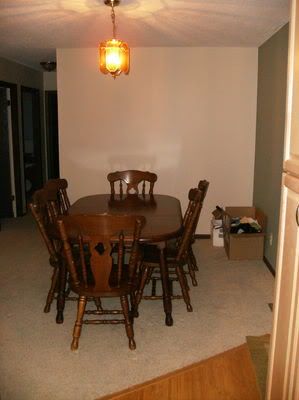 I took these on Friday night. It sure gets dark in the country, as you can see from the sliders! And yes, I know there are no blinds or curtains - We have woods behind us, and I haven't found window treatments I like for the sliders yet.

As of Friday night, this was the ONLY place with something on the wall, lol. I haven't gotten the rest of the "homey" stuff up yet - that'll happen. I need a new piece of art for the dining room and for my living room.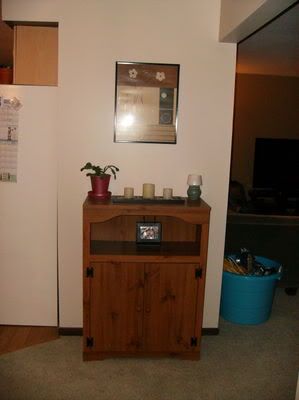 This is part of the living room, with the front door and a coat closet on the far right side.




The rest of the living room:




As soon as we have electrical run in the basement (which will hopefully be in a week or so!), we're going to move the GIANT tv and tv stand downstairs. I'm getting a small unit for the corner by the window and we're going to get a 32" Plasma tv for the living room. That way I can watch tv if Rick wants to watch a movie in surround sound, or play video games in the basement.

We only have one bathroom, and it's small, but there's a huge linen closet behind the door that makes up for it. Plus, I'm the only girl, so I can deal with a small bathroom for now!!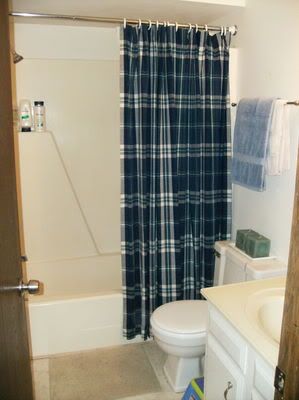 Here is "My Space". An office of my very own, which is helpful since one of my jobs is working from home. I don't like "clutter" in the bedroom, so I love having a place for all my books and personal stuff, without it being all over the bedroom. Eventually this will double as our guest bedroom for when our friends and family come to visit, but we need to get a new mattress for Josh's old bed before we'll get it set up in there. Trust me, I'm not anxious :)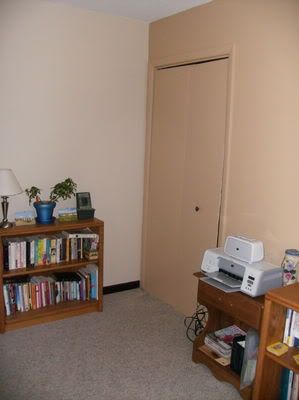 This is Josh and Logan's room: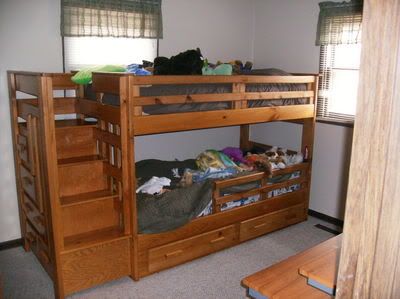 Their bunkbed is a little big for the room, but we made it work.




And Joshua has his very own desk for doing homework. I still need to get him a chair, but eventually that'll happen :)




This is the Master Bedroom: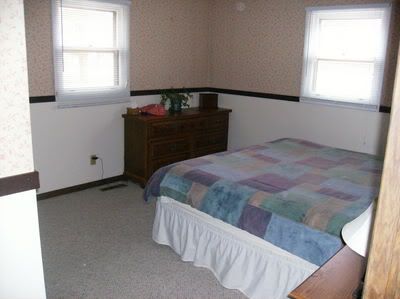 As soon as it's warm enough, the dated wallpaper and ugly chair rail are coming down. I'm going to paint the walls a slate blue and we're actually going to downsize to a queen size bed. We need a new mattress, and we don't need to have a king sized bed anymore, so we're just going to replace it all. Plus, I need a reason to get a new bedding set and window treatments!!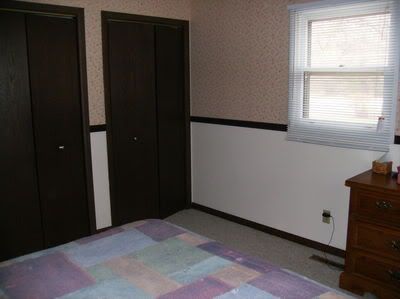 Double closets - that's nice!!

There ya have it - the grand tour of our new home!! We really love it. Hopefully everyone can come over and see it, now that we're not living in boxes anymore!!

On a health update - my OB/GYN has all my test results. I'm waiting for a call with an appointment for follow-up so we know what we're dealing with. As much as I want to know if it's cancer or not, because it's been a while and the initial shock is over, I'm actually coping much better than I was. I'm still scared, but even more than that, I know this has already been ordained as part of God's plan. I'm one of the lucky people who can see God in everything - good or bad. I've been through too much not too. I'm very thankful for the gift of feeling Him everywhere, and in everything, though.

I covet your continued prayers, though. I know that's part of why I'm "ok" right now.

Hope your week is a true blessing!!