The White Lake Area Maritime Festival started today. It's actually a really fun festival. There is a community picnic, arts and crafts fair, beer tent, shrimp boil, trout pond for the kids - tons of fun stuff. Tonight was the Community Picnic. For $2 you got a hot dog dinner with chips, cookies and a drink - can't beat that! Plus, there were games for the kids with prizes and stuff.
I had never been to the picnic before, but I brought the boys and met up with my friends Kait and Dawn, and their kids. There were TONS of people there but it was actually pretty fun. The highlight of the night was the "Foam Penny Scramble". Basically, they put a bunch of money in the grass, then the firefighters cover the whole area with fire retardant foam!!!!!! On the count of three, the kids all rush into the pile of foam and start digging for money, LOL!! Joshua and Logan had an absolute blast :)
The pictures that I got are off my phone, so the quality is far from fantastic, but it's good enough that you will get the idea!!
Here is Logan, just after he slipped and fell UNDER all the foam and was covered from head to toe. I had to wipe his face off so it didn't get in his eyes, lol. He was less than thrilled at this moment: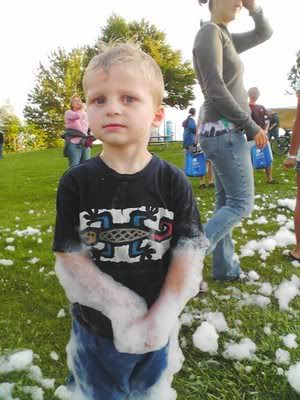 Joshua LOVED the foam - he had so much fun slipping and sliding everywhere!!!
Logan decided to give it another go and had more fun the second time around:
And Joshua again: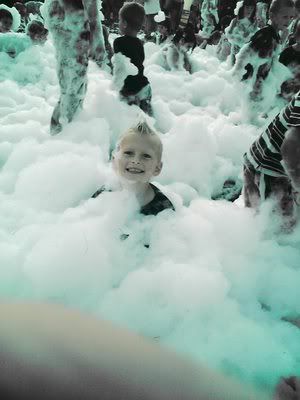 It was right into the shower when we got home to wash all the soap, grass and dirt off, lol!! I am really glad the kids had fun because I only spent $6 total for the night! I can't wait to check out the trout pond on Saturday - I think they are gonna LOVE that!!!

Oh, and I can't wait for the beer tent tomorrow night :)