Rick has been working crazy hours this summer - usually 7 days a week. We haven't been able to do much this summer as a family, which was bumming both of us out. Things are starting to slow down for him so he's been able to have a few days off that weren't because of rain. Yesterday, we decided to take the kids hiking at Ludington State Park.
When we told the kids yesterday morning, they were SO excited! I packed up a cooler for us, tracked down the bug spray, and we were on our way by about 11:30am.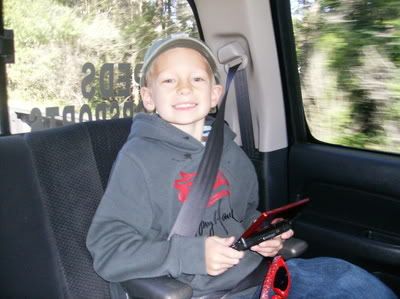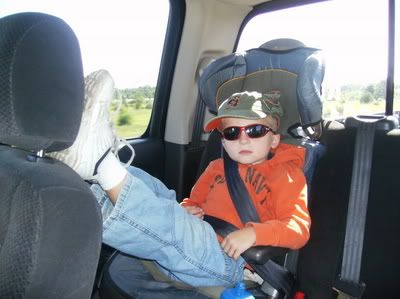 We took the scenic route north through Pentwater so Rick could get his mopeds out so he could rent them over the phone if anyone called (that's what he does when he's not at the store). We drove around Bass Lake (SO PRETTY!), and decided to take the kids to the lookout at Consumers Energy. Just south of Ludington, there's a huge water reservoir where they make electricity. It's like 400 ft deep or something crazy like that. You can walk up the hill and look out at the reservoir and also Lake Michigan. My camera batteries died halfway up the hill, so I didn't get pictures at the top, but I did get some on the way up.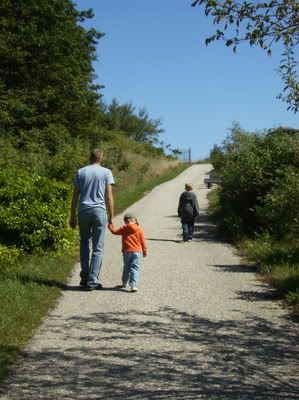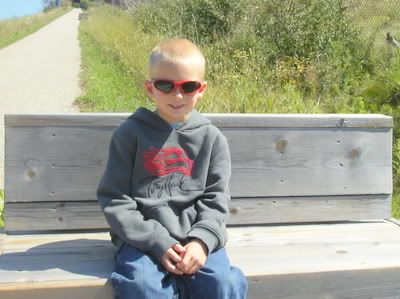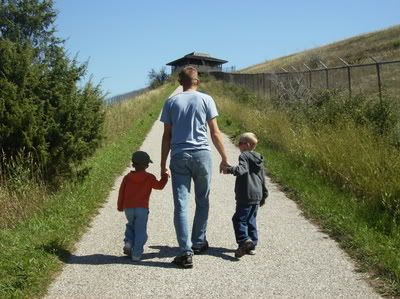 After that, we drove up to Ludington State Park - one of my favorite places to go hiking. We used to go there when I was little and I've been wanting to take the boys for the longest time. It was gorgeous. Warmer than we thought it was going to be though, but that was ok. I wanted to look for a geocache out by the lighthouse, so we decided on the Lighthouse Trail.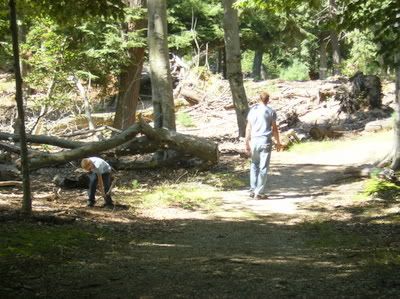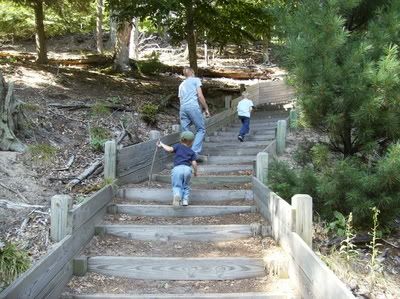 When we got about halfway on the trail, I remembered that the last part of that trail, across the sand, is particularly wicked. It was hot and walking in the sand was really hard on all of us, but Joshua did it himself, and Logan tried REALLY hard to make it before Rick had to put him up on his shoulders. Eventually we made it to the Big Sable Lighthouse. It was SO pretty - I should have taken a picture, but I was just so glad to be done walking for a while that I didn't even think about it, lol.
You can climb to the top of the Big Sable Lighthouse for $2.00 for adults and $1.00 for kids, so we decided that would be really fun. After a 5 minute video on the history of the lighthouse, which was REALLY cool, and a demonstration from a volunteer about how light is magnified with a lamp, we climbed the 130 steps to the top of the tower.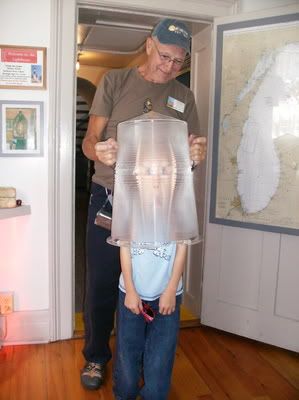 It was GORGEOUS up top!!! I've never been to the top of a lighthouse before and was so impressed!! The kids LOVED it!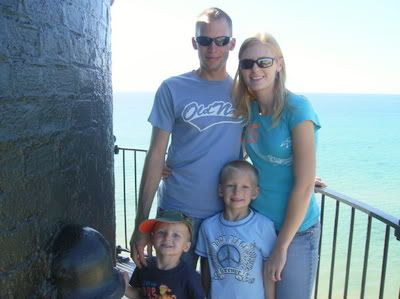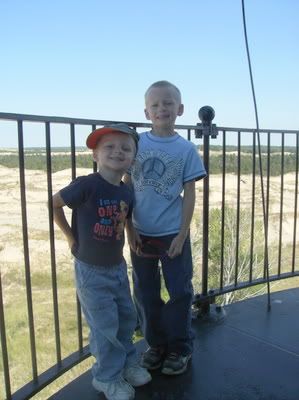 After we got to the bottom, Joshua and Logan wanted to play on a HUGE tree stump, which was another great photo opportunity.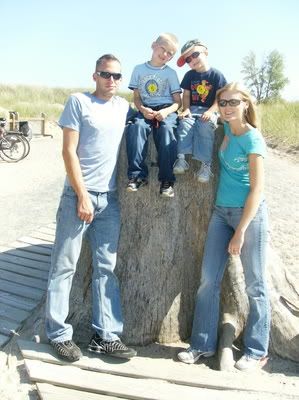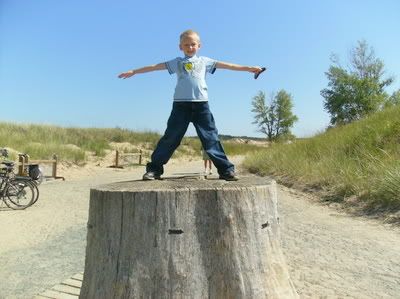 We decided to take the Lighthouse Road back instead of walking through all that sand again. It was hot, but it was hardpacked, so we were good with that! Right as we were about to get to the Coast Guard Trail to take that back to the truck we saw this:
Unfortunately, it was getting late, so we weren't able to check out the shipwreck, but we're definitely going to see what it's all about next time we're out there. On the way back to the truck, Eagle Eye Joshua spotted some wildlife!!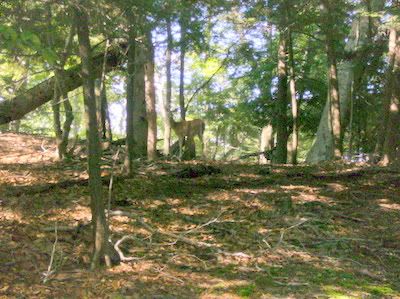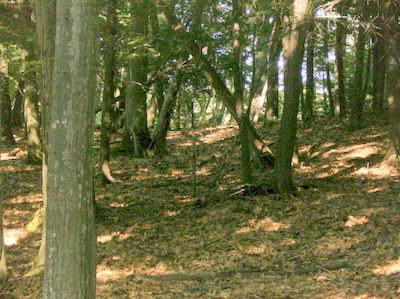 There is actually a deer laying in the grass in the last one, but you can't see it in the picture. After we made it back to the truck, we went to Dairy Queen for some well deserved ice cream and then we had to boogie back into Whitehall for Joshua's open house at school. But, it was an awesome day and we had a great time together.